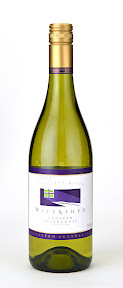 IF the dictionary defines watershed as "a dividing line… going to a new and higher level," then the Margaret River's Watershed Premium Wines has achieved just that with its 2006 Chardonnay.
Here's a classic wine made by French-born Severine Logan, who brought together fruit from both the northern and central regions of the Margaret River, and then eschewed the use of oak to allow the sweet peach-like and citrus flavours of the fruit itself to spin its magic.
And with these fully-forward fruit flavours, supported by a more-ish, creamy smooth finish, its given a wine that begs to go on the table with a cold seafood salad before winter has us thinking heavier meals and heartier reds.
Severine, who graduated from both Toulouse and Orleans Universities in France, joined Watershed after jetting between Australian and French vintages for over a decade; her work included with such prestigious French labels as Chateau Lafite-Rothschild, Chateau Latour and BRL Hardy's Domaine de La Baume in Languedoc, and in-between with leading makers here that included Brown Brothers, Sandalford, Houghton and Rosemount, before becoming Watershed's Head Winemaker.
Snap up her 2006 Watershed Margaret River Chardonnay at $16.95.