w/b 09 Nov 09
david ellis
THE Barwang label could almost be described as the accidental wine of NSW.
Back in the 1960s former rear-gunner on RAAF Lancaster bombers, Peter Robertson planted vines on his property at Barwang near Young on the South Western Slopes of the Great Dividing Range, to supplement his wheat farming.
But when his first crop came along in 1970, authorities stopped him taking the fruit out of the area because of an outbreak of fruit-fly; undaunted, the resourceful Robertson set about turning his grapes into wine himself, and Barwang Wines was born.
Twenty years later McWilliam's bought the property and has been making exceptional wines under the label ever since – in particular an outstanding Chardonnay using fruit from the cool-climate hilltops of Tumbarumba.
The just-released 2007 Barwang Chardonnay made by Andrew Higgins has beautifully intense peach and rockmelon flavours, nice minerality and natural acidity; you'll not regret paying $19.99 to enjoy with pan-fried Atlantic salmon.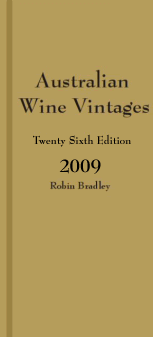 ONE OR MORE FOR LUNCH: BACK in 1979 the first edition of the "Australian Wine Vintages Gold Book" launched with a review of 800 wines.
The 2010 edition is now out in time for Christmas gift-giving to wine-buff family, friends (or yourself,) and it's got close to 2500 wines from 300 Aussie and New Zealand wineries carefully reviewed by author and Master of Wine, Robert Geddes. There're also useful guidelines for visiting Australian wine regions, best places to eat and stay, varieties to look for in different regions, and Geddes' "Top 100" wines, plus wine terms and cellar door addresses.
At $34.95 it's an invaluable must-have for anyone with any interest in wine.
(NEED A FOOD/DRINK IDEA? Check out
http://www.vintnews.com
)
PHOTO CAPTIONS:
[] NO regrets about this one to enjoy with pan-fried Atlantic salmon
[] MUST-have for anyone with even a passing interest in wine