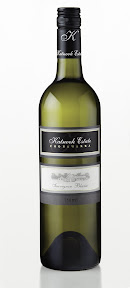 SAUVIGNON Blanc is generally considered one of those buy-now, drink-now wines for everyday enjoyment, but over the past half-decade or so Wayne Stehbens at Katnook Estate has been creating a different Sauvignon Blanc from Coonawarra – one to cellar and enjoy down the track.
He's just done it again with his 2006, a stand-out wine that's showing all signs of a good five year's ageing ability. It's quite unusual to make such a wine, and Wayne says the trick lays in early harvesting: this latest was picked in late February, whereas five or six years ago he'd have been picking it late March.
"Its all part of differentiating ourselves from other more overt Sauvignon Blanc, giving us a sophisticated more food-friendly and elegant wine," he says, adding that he believes Katnook's approach offers those who enjoy Sauvignon Blanc "that little bit more…a racier wine with exceptional regional characteristics."
Wayne's 2006 Katnook Sauvignon Blanc was sourced entirely from a vineyard planted in 1978, and one that's traditionally low-yielding so fruit's harvested in three or four separate picks to allow the wine to be made in small batches.
Enjoy the rich gooseberry flavours and light tropical lychee, mineral and flint character that give a crisp, savoury finish; at $26.95 it's a good match served chilled with an asparagus quiche, or in cooler climes a hearty mussel soup.