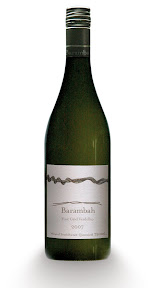 ITS not so long ago that growing grapes and making wine was the last thing on peoples' minds in the cattle country of Queensland's historic South Burnett.
But in the early 1990s a consortium of wine-lovers and investors did their research and figured that the area, that had been described as far back as 1861 as "the greatest pastoral district in the whole colony," had the potential to add winemaking to its beef and dairy heritage.
They planted their first grapes in 1995 on the 150 year old Barambah estate, and so successfully did the idea take off that there are now around eighteen other makers in the area, although cattle is still the region's mainstay.
Barambah Wines, that was bought in 2006 by Steve and Jane Wilson as an adjunct to their cattle business, has recently released a classic Unwooded First Grid 2007 Verdelho to add to its range of First Grid Chardonnay, Shiraz and Cabernet Sauvignon, and Rack Dried Semillon.
The wine was made by respected consultant-maker, Peter Scudamore-Smith who has an enviable reputation for coaxing the best from the grape, and almost cheekily boasts its Queensland heritage with beautiful ripe mango, pawpaw and lime sherbet acidity on the palate, and a lifted tropical nose.
Good buying at $19 from Barambah's "cellar door" at the Cheese Centre in Kingaroy, or check-out
www.barambah.com.au
for select outlets or to order on-line. It's a great wine on the table with a Thai Green Chicken Curry.