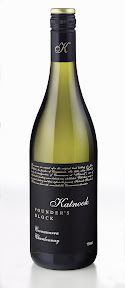 COONAWARRA's Katnook Estate label has long been recognised as one of the region's super-premiums, covering wines of enormous intensity and flavour, and usually available in only limited quantities that are much sought-after by aficionados – particularly the label's reds.
But in 2005 it introduced a Katnook Founder's Block, a label that Senior Winemaker, Wayne Stehbens calls "an introduction to the Katnook Estate label… and for Katnook Estate's devotees, their informal drinking wines."
Don't think, however, that these are deliberately dumbed-down wines: Wayne and his team have maintained all of Katnook's full-on flavour and elegance with the six varietals under the label – a Cabernet Sauvignon, Shiraz, Chardonnay, Merlot, Sauvignon Blanc and Sparkling Shiraz – that are on the shelf at a good-value $19.99 each.
And although Coonawarra's reputation lays with its reds, the Katnook Founder's Block 2005 Chardonnay is one that will appeal to white wine lovers: its silky smooth texture is supported by generous peach, melon and grapefruit flavours, and there's lively acidity.
A good everyday drinking wine to match it with pasta served with a pesto of blended basil, garlic, pine nuts, Parmesan cheese, olive oil, salt and pepper.