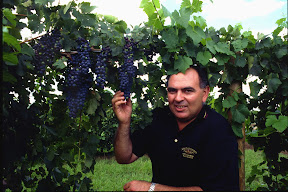 ROBERT Fiumara, Chief Winemaker at Lillypilly Estate in the Riverina, is an adventurous soul, his latest effort an usual dessert wine he thinks will appeal to those who like their sweets and puddings, but not of the overly-rich variety.
Robert's stepped away before from the Semillons and Rieslings that are the usual backbones for botrytised dessert wines to experiment with Sauvignon Blanc, Traminer, and Muscat of Alexandria, but with his 2006 Noble Blend he's done the somewhat unthinkable – he's included Chardonnay in the blend.
Many fellow winemakers were possibly horrified at the idea, but Robert says he was quite excited to find botrytis developing in a small block of Chardonnay in his Leeton vineyard in 2006 – and admits that when he tried to hold-back some of the normally early-ripening fruit from the same block this year for a 2007 Noble Blend, he lost the lot when the berries broke down too quickly.
His 2006 Noble Blend is an interesting compilation of 35 per cent Semillon, 30 per cent Riesling, 25 per cent Sauvignon Blanc, and 10 per cent Chardonnay. "I think the Chardonnay has definitely added complexity and stonefruit characters to the bouquet, and an extra dimension to the palate," he says. "But, no, it won't be making regular appearances."
All the same, this is a very delightful – if slightly different – dessert wine with lovely zestiness and freshness on the palate, and certainly well worth $24.50 for a 375ml bottle to round-off a good dinner with a fresh lime brulée.