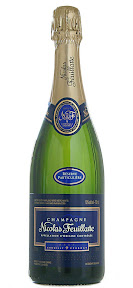 WE'RE assured there're 45-million bubbles in every bottle of Champagne, but we're unsure if they were ever counted, or if it's just an educated guess.
So we're accepting the word of our French winemaking mates, and on the 14th of this month be amongst those world-wide who'll enjoy a few million of those bubbles – Bastille Day, after all, is not just the preserve of the French.
And in Sydney one Frenchman who has chosen to spend half of every year living in the Harbour City will have a trifecta of reasons to pop the cork: Nicolas Feuillatte created the Champagne that today bears his name, he is an enthusiastic Bastille Day party-goer – and on this year's Big Day he's being honoured with the Legion d'Honneur, the French equivalent of a knighthood.
It is also France's highest civilian award, Nicolas receiving it in recognition of his sixty years contribution to French commerce: his Champagne is now his country's third largest-selling brand, and exported to over seventy countries.
Nicolas, who owned a small vineyard outside Reims with his brother Sege, founded Champagne Nicolas Feuillatte in 1976, dedicating the first vintage to a young opera singer he'd lost his heart to in New York. Since then his brand's been the Champagne of choice of Jacqui Kennedy and JFK, Princess Diana, and been used on the set of British TV hit "Colin & Justin's Wedding Belles."
Nicolas Feuillatte's biggest-selling label in Australia is the Reserve Particuliere Brut NV that sells for $55; it's got Bastille Day partying written all over it.